Business Standard Digital
Subscribe now to get an across device access to Premium content, Breaking News alerts, Industry Newsletters, Archives and a lot more.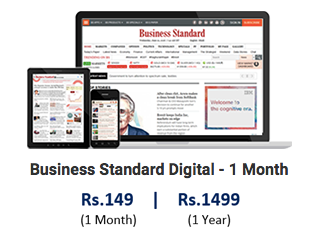 What you get
Unlimited access to all the content on any device through browser or app.
Exclusive content, features, opinions and comment - hand-picked by our editors, just for you.
Pick 5 of your favourite companies. Get a daily email with all the news updates on them.
Track the industry of your choice with a daily newsletter specific to that industry.
Stay on top of your investments. Track stock prices in your portfolio.
18 years of archival data.